Description
It's your time and you're ready. One Day Yoga Retreat in Montauk!
SATURDAY, MAY 18, 2019
---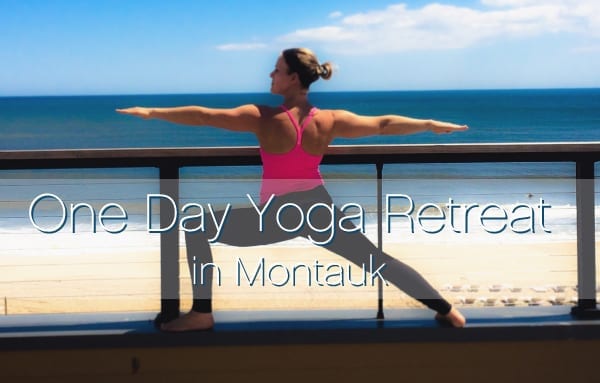 Are you a disciplined person in your life but struggle to take time for yourself? Do you skip the personal attention you know you need to be at your best? Do you put your focus on your other responsibilities?
If you are nodding your head yes to any of these, you're not alone.
Part of being a high achiever is having a full life. Often this comes with putting everyone and everything else ahead of yourself. But what is the cost of doing this?
"I was feeling unfulfilled by my personal practice and I was losing faith in my pursuits as a yoga teacher and mentor. My personal practice had become all about preparing practices for my students, which was not enough for me." -N.C.
"I have been plagued with physical ailments that are a result of my taking my responsibilities too seriously at times. In the early 1990's I had a severe disc compression at C6/C7 andI needed surgery. While successfully alleviating pain from the physical malady, it not address the root cause – lack of stress management. The neck pain came back and required frequent medication, icing, rest or just plain suffering with discomfort." JD
I know you.
You are done with the noise and overconsumption of unnecessary stimuli.
You're craving quiet space for physical, mental, emotional, spiritual healing.
You know there is a better way, but you can't find it on your own.
That's what we do together in Montauk. And it doesn't take two weeks. It doesn't require a long plane ride. It takes ONE DAY.
I can help, but only if you're ready.
This work is NOT for people who are addicted to drama.
This retreat is NOT for those who'd rather stay in excuse mode than create change.
It IS for people who trust that the quiet space cultivated by spiritual practices gives them real results in their lives.
What kind of results?
"Since doing regular yoga practice with Sara, my neck and shoulder pain went from 6-9 on a scale of 10 to under 2. Other physical ailments, like indigestion or occasional migraine headaches also subsided. Yoga was the one variable in my life that I changed during this period of time, so I am absolutely sure it was the main driver to these improvements in my health." -J.D.
"I approach the world with mindfulness, self awareness, and patience. What started as a physical practice with the guidance of Sara has become a way of viewing the world on a daily basis." -K.A.
For this one day together, we will be fully focused– (no phones allowed)–on taking a deeper dive into your habits, your spiritual growth, and allowing your yoga and meditation to spill over into every other part of your life.
Yoga is not an escape from life. It's not something that you do and then ignore the rest of the day. Rather, yoga and meditation are tools which ignite the spark. They allow all of your energy, your vitality, and awareness to spill over into the rest of your day so that you feel supported, healed, and ALIVE.
This retreat is not an endpoint. It is a jumping-off point. It is a place to gather inspiration to use your spiritual practices amidst the daily grind. Here's how this one day transformation retreat provides this for you:
---
May 18th Yoga and Transformation Retreat In Montauk
8:30am – Check In, Coffee, Tea
8:45am – Introductions
9:00am – Ashtanga Yoga Full Primary Series Class and Pranayama
11:00am – Brunch (organic & plant based)
12:00pm – Sound Healing in the Montauk Salt Cave
1:30pm – Technique workshop: strong, supple shoulders
2:45pm – Lunch (organic & plant based)
3:45pm – Yoga Philosophy Class #1
4:45pm – Meditation & Yoga Philosophy Class #2
6:00pm – Final Blessing & Retreat Conclusion
---
THE MOST IMPORTANT PART! Post-Retreat Integration Workshop
Wednesday, May 29th 2pm:
A virtual meeting with Sara to ensure all members of the group are integrating their retreat insights into their day to day lives with the support they need to ensure success. This call will be recorded to allow for anyone unable to attend live.
This group will be intimate and space is limited.
$499 per person through April 5th; $699 from April 6th
---
The people who come to this retreat are discerning consumers. They don't throw money at every shiny object. They don't care about what's trendy. They invest in themselves. They invest in their health. They invest in a day, knowing that this one day will inspire them and energize them for weeks and months to come.
"Sara provides an oasis in my personal desert. First, she offers no judgment when I have not been diligent and provides positive motivation for me to stay on course with my yoga practice." -J.D.
"The wisdom, kindness, humanity and depth of knowledge that Sara has is palpable. Having someone to ask questions to has allowed me to grow in a safe and nurturing environment. No question is too small, whether about progression or position in my asana or how my spiritual practice has affected my parenting." – K.A.
"What happened when I started working with Sara was an immediate shift. Thanks to her guidance on building a practice that is challenging and nourishing and perfectly suited to me, I feel squarely back on my path of yoga study and it feels so great! The results have been numerous. Immediately, my classes and students benefited, as I felt more grounded, confident and able to be most present with my students. I have felt more inspired in both my practice and teaching. Perhaps most important of all is that I've increased trust in myself. As I continue to push to new limits, either on my yoga mat or off the mat as an educator, mentor and business owner, I know that my yoga practice and Sara, with her brilliant guidance when I run into obstacles along the way, will support me." -N.C.