Description
It's your time and you're ready.One Day Yoga Retreat in Montauk!
SATURDAY, OCTOBER 14, 2017
---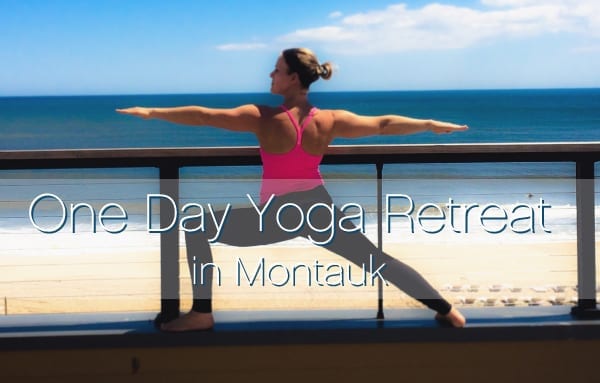 Are you ready to step out of your life and away from the noise?
This October I'm hosting an intimate, chic, half-day retreat
in beautiful Montauk.
This is an experience like no other, far beyond your typical Monday morning yoga class (which let's face it, has just become another item on your to do list.)
 Consider this your chance to get away from the pressures of work, home, and your self-imposed need for perfection.
This is a day with a difference.
After years of hosting destination retreats, I have created an environment to support your self-care, self-discovery, and self-transformation.
My aim here is to combine intensive yoga practice with an in-depth awareness of technique, your own mind, and your own anatomy so that together we can set you up for a more stable practice with longevity in mind.
The results of this intensive yoga experience will reach far beyond a half day.
By giving yourself the space to be a student, you will receive the knowledge, the time, and the inspiration you need to nurture yourself, – today and forever.
This is not about powering through and trying out the most testing poses.
This is about seeing a shift.
It's about changing your pace, getting a whole new perspective, and renewing your love for the practice.
 Together we will step off the grid, and immerse ourselves in awareness, presence, and intention.
Hosted at a jaw-dropping private water-front location, built entirely out of reclaimed materials, you'll have the opportunity to dig deep into your own presence, person, and perspective.
This is that "more" you've been searching for.
Because I want this session to be truly intimate and transformational for all, I'm keeping the numbers low.
I have six spots available, and once they're gone, they're gone. If you're ready for your next step, join us now.
---
Schedule of semi-private practice intensive:
Friday, October 13, 2017
10:00 am Semi-Private Mysore Style Ashtanga Yoga Class
12:00 pm Customized technique workshop
1:30pm Lunch
3:00 pm -4:45 pm Yoga philosophy class and implementation
5:00 pm Meditation in Montauk Salt Cave
There is no substitute for personalized attention.
It's your time and you're ready.
---
Investment:
October 13 Semi-Private day only: $650
All cancellation requests submitted by to August 31, 2017 will receive a full refund. Unfortunately, no refunds can be granted from September 1, 2017 onward.