Description
SATURDAY, OCTOBER 14, 2017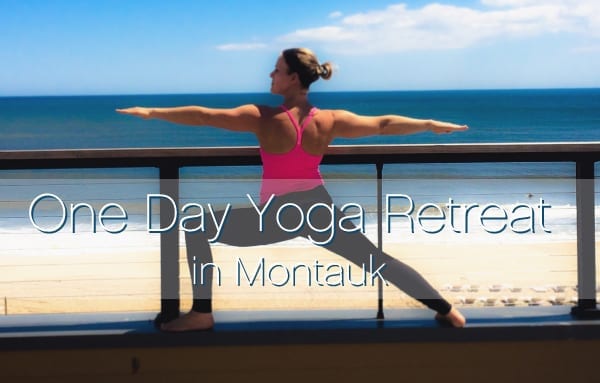 Are you ready to step off the hamster wheel? Even if it's just for the day?
I know you're thinking you can't…
But I'm here to tell you it's totally possible.
What if I told you that one day nurturing yourself will feel like two weeks? By making yourself the priority for a single day and devoting time and energy to your yoga and meditation practices, applying yoga philosophy to everyday life, eating organic and rejuvenating foods, and allowing ourselves to move at a slower pace we have the chance to renew balance in our lives.
If you're ready to:
Press the pause button on life for just a day.
Find inspiration for your practice and life.
Receive support from a community of like-minded souls.
Surrender to the flow of life in this moment.
Develop a deeper connection to your self and community.
Then I've got exactly what you need.
How does this sound?
---
One Day Yoga Retreat in Montauk
8:00am Check In, Tea, Coffee
8:30am Guided Ashtanga Yoga Class
10:15am Brunch
11:00am Meditation
11:30 Yoga Philosophy Class
12:30pm Workshop
2:30pm Lunch
3:30 Silent Hour
4:30 Restorative yoga with reiki & aromatherapy
6:30 Final blessings and Retreat Conclusion
*Our delicious vegan, gluten free, and organic meals are made with love and provided by Organic Krush. Coffee, tea, cold pressed juice, and vegan/paleo desserts included.
Are you ready?
Let's do this.
---
Investment:
Early Bird Price (Valid June 19-23) – $450
After June 23rd – $499
*This retreat will be capped at 20 people.
---
But wait, there's more!

To make a beautiful retreat weekend even more fulfilling, I have created a special, semi-private half day practice intensive add-on, limited to 5 students only.
If you are ready to commit and effectively up-level your practice, this intensive will provide a powerful transformation by:
Improving your strength and technique
Deepening your knowledge of anatomy and injury prevention in your practice
Connecting to the roots of yoga philosophy and applying them to your daily life as a means to greater joy, clarity, and inspiration EVERY DAY.
Customized learning in an intimate setting of like-minded practitioners
Here's how it works:
Semi-private practice intensive:
Friday, October 13, 2017
10:00 am Semi-Private Mysore Style Ashtanga Yoga Class
12:00 pm Customized technique workshop
1:30pm Lunch
3:00 pm -4:45 pm Yoga philosophy class and implementation
5:00 pm Meditation in Montauk Salt Cave
There is no substitute for personalized attention.
Imagine entering Saturday's retreat ALREADY connected to yourself, supported by the community, more conscious of your practice, rejuvenated, and primed for personal growth?
It's your time and you're ready.
Register for both: $999
Combo after June 23: $1049
October 13 Semi-Private day only: $650
October 14: Montauk Yoga retreat day only: $450 (early bird price, valid through June 23rd)
$499 regular price.
All cancellation requests submitted by to August 31, 2017 will receive a full refund. Unfortunately, no refunds can be granted from September 1, 2017 onward.